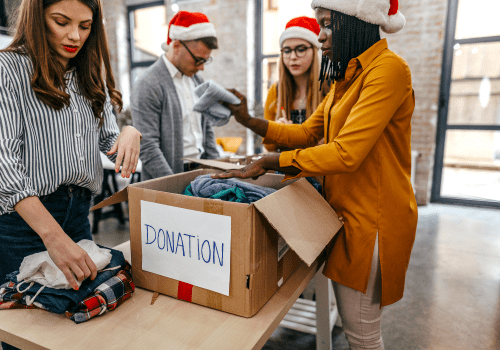 There are many ways we can give back to our community this holiday season. Below are a few local organizations helping others this year.
1. Dorothy Day House of Hospitality
Emergency Shelter: 218 – 233 – 5763
Food Pantry: 218 – 284 – 8895
For the homeless and hungry, shelter volunteers will plan and prepare a family meal for 10 homeless men and women, while food pantry volunteers will help individuals shop for food.
2. Elim Care
Ph: 701 – 271 – 1815
Elim Care encourages volunteers to spend time sharing stories and playing games for seniors.
3. Ronald McDonald House
Ph: 701-232-3980
For families of children who are receiving medical care, the Ronald McDonald House provides comfortable housing and support. It's most popular volunteer activity is Share-A-Meal, in which volunteers prepare a home-cooked meal for the families
4. Salvation Army
salvationarmynorth. org/ volunteer
Ph: 701 – 356 – 2688
The Salvation Army is always looking for volunteers to assist and help those in the community. Salvation army has programs available for those in need that fall into these main categories: basic needs, housing, youth services, rehabilitation, disaster relief, counseling and spiritual.
5.Love Your Melon
loveyourmelon. com – NDSU Crew or local retailers ( Scheels, Dry Goods, etc.)
Rather give back to a charitable cause? 50 % of net profit from the sales of all Love Your Melon products is given to the Love Your Melon Fund to support nonprofit partners in the fight against pediatric cancer, create therapeutic experiences and fund charitable programming initiatives for children and families battling cancer.
What do you do to give back during the holidays?