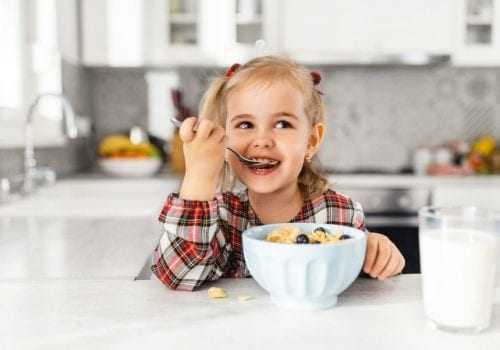 Mornings can be hectic! Forget about your to-do list, you are also in charge getting the family out of the door in time. To cut down on the list of items to complete in the morning, we pack our bags and pick out our clothing in the evening before bed. In the mornings we have a rule in our house for our children – You have two responsibilities 1) Get dressed and 2) Eat Breakfast. Worry about yourself first, then help others. This goes back to the oxygen mask scenario. You cannot help others if you have not taken care of your basic needs first. It may take them a while to get their clothes on, but it can lead to a sense of accomplishment, independence, and reduces the items you have to help them with. While they are waking up and getting their clothes on, we focus on preparing breakfast. (Coffee for the adults is a necessity, of course!)
Breakfast is the most important meals of the day!
You just woke up after a night of fasting and your body is hungry. Kids need food – and lots of it especially if they are active. A healthy breakfast gives the energy to start their day on the right foot and ensures they perform well in the classroom.
"Case in point: a study published in Frontiers in Public Health that evaluated academic performance among secondary-school students based on the frequency with which they ate breakfast. Children who rarely ate breakfast scored, on average, two grades lower in various course subjects (assessment tests) compared to students who regularly ate breakfast. Breakfast habits were evaluated based on self-reports by students on all food and drink consumed over a one-week period (seven days), culminating on the day of testing. Researchers defined "breakfast" as any food or drink containing at least 5 percent of total daily energy expenditure consumed before 10:00 a.m. on a school day."
So what does a healthy, satisfying breakfast look like?
For our family, we prepare many of our breakfast options on Sunday. I will make extra pancakes (Kodiak brand is our favorite!) or French toast. To mix it up, adding pumpkin or applesauce to the pancake mixture is a great way to get some additional vitamin/minerals into their meal. Then we have sausage or ham ready to add to the plate. A few times a week we will whip up some scrambled eggs. Whenever I make scrambled eggs, I always make double the amount and save the leftovers in the fridge for another morning. Don't fear eggs! They are great for you in many ways. Yogurt, Greek and plain, is ideal is another easy, quick breakfast option. Make sure you read the yogurt label. Many are no better than candy with the amount of sugar added. Better sweeteners are honey, maple syrup, and fruit. Lastly, homemade muffins or egg cups prepared in a muffin pan ahead of time can make for quick meals. You just pop these out of the freezer, heat up, and place on the plate.
This is a family recipe we have used to make tasty Egg Muffins.
Ingredients
Cooking spray or coconut oil
6 large eggs
¼ cup milk
1/8 tsp salt
1/8 tsp black pepper
Dash of turmeric
Chopped red bell pepper, onion, mushrooms, spinach, ham (any ingredients you may have. Cut the pieces small and let them try it before deciding they will not like it)
3 oz cheddar cheese
Instructions:
Spray or coat tins with cooking spray. Preheat oven to 375 degrees.
Whisk the eggs and milk in a bowl. Season with spices – salt, pepper, turmeric
Dice the peppers, onions, ect in to small pieces. Roll up the spinach leaves and slice them ribbon thin.
Add veggies and cheese to egg mixture.
Fill the cup ¾ full with mixture and back 2-25 minutes until the centers are not runny.
Cool slightly and serve – OR – cool completely and freeze for a quick breakfast.
Get your child to the breakfast table and send them off to school with a full belly and in the best position positive to achieve in school.
-Melanie Dockter, DC CACCP
Reference: https://www.toyourhealth.com/mpacms/tyh/article.php?id=2727