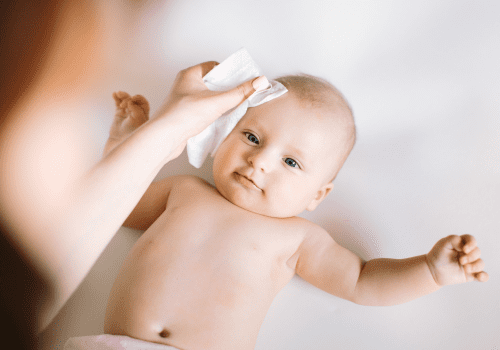 Are you concerned about what is in your baby's diaper wipes? I wasn't concerned until I started looking at the ingredient list. Apps such as Think Dirty or EWG's Healthy Living can help you know the safety ratings of cosmetics, household cleaners, or food. I was surprised what I found when I started scanning items. I started to make my own baby wipes so I knew what I was putting on my baby's skin and we saved money too.
Baby Wipe Recipe:
1 roll of heavy-duty paper towels
OXO container- (Old wipes containers or empty gallon ice cream buckets also work.)
1 3/4 cups boiled water (or distilled)-cooled but still warm – (you can use regular water if you use them in less than a week)
1 Tablespoon of pure Witch Hazel Extract with aloe (Thayer's Witch Hazel with Aloe is great)
1 teaspoon of liquid castile soap(I use Dr. Bronner's unscented baby)
1 teaspoon of Coconut or Olive Oil
Essential Oils of choice (optional- I use 6 drops each of orange and lavender. Roman chamomile is a great option for sensitive skin) Find Here
Cut the roll of paper towels in half or thirds, depending on the size of the container, using a sharp knife. You may also accordion fold wipes into a to-go container that you may have used previously. In the bowl mix the water, witch hazel, castile soap, coconut oil and stir. Add essential oils if desired and stir. Pour over paper towels in container and let absorb for approximately 5-10 minutes. Flip the container over to make sure wipes are well soaked. Once soaked, pull the cardboard roll out from the inside. This should also pull the innermost wipe out and start them for you. Then, begin using the wipes and have peace of mind knowing that there are no harsh ingredients. This is very cost-affordable and takes little time to make.
Want to see how easy it is? Find the video on our YouTube Channel, plus many more other parenting hacks so you can keep your family happy and healthy!
Melanie Dockter, DC, CACCP