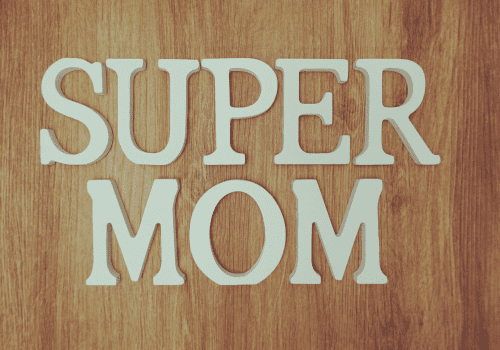 Leave the super hero status to the movies. We don't have to be a supermom to be a great mom. Juggling too much can leave you feeling exhausted, anxious, and stressed. It doesn't matter if you are a working mom or a stay-at-home mom we are only able to do so much until stress and burn-out catches up to us. I am a working mom with three kids ranging from 4 years to 9 months old. I am familiar with stress and how it can steer the course of your day if you let it. Stress is the leading cause of physical and emotional health decline. We all know it, yet we continue to pour ourselves into everything and everyone around us like unintentional martyrs because we feel it is expected of us. This year try to focus more on you. Instead of adding more "To-dos" to an already full plate consider re-focusing and making adjustments to your current routine. What do YOU need so you can be a great mom? Pick that one thing and work on it. Practice. Fail. Try again. And keep practicing until you nail it! Keep at it until it becomes a habit and do NOT add more to your plate until you have achieved your goal.
Eliminating stress is impossible. Stress is necessary and can be positive. It is the motivator to help us get things done. However, we need to practice tips to help reduce it. Small changes breed success in a big way. Here are few quick ways to make your day brighter and help you take a moment to be grateful for all you have.
1) Put yourself in a Time-Out: Close your eyes and take 10 deep breaths focusing on the inhalation, exhalation and nothing else besides relaxing your body. Stop focusing on checking things off your to-do list. Leave the pressure to be a super mom – cook, clean, love, discipline, work, and entertain – behind you. The dishes can wait, the floors can be scrubbed later, and it is OKAY for your kids to be bored. Right now you need time for YOU.
2) Stop checking your gadgets and enjoy dinner without your email, texts and phone interrupting your time with the people you love. Those individuals tied to their devices have been shown to have higher anxiety and depression than those who take conscious time to separate from the noise. Your kids crave quality time not quantity of time. You can be in the room with your children, but not present. First, finish reading this blog and then put your phone down. Stop comparing yourself to everyone. Social media is notorious for making us feel we are missing out and leaves us searching for "more".
3) Avoid sugar and the mood swings that come with it. A diet high in sugar can have significant effects on the reproductive hormones, like estrogen and progesterone, and can help explain the link between conditions such as polycystic ovary syndrome (PCOS). Over time, insulin resistance can lead to serious conditions like diabetes, obesity, high cholesterol, heart disease and even stroke. Sugar also causes an increase of inflammation throughout the body. Chronic inflammation decreases your body's ability to heal and repair properly. Make sure you are eating a well-rounded diet full of fruits and vegetables, lean protein, healthy fats, and reducing processed carbohydrates.
4) Take an hour out of your month to set goals and decide what YOU want from life. Do not let others determine your path. The most successful people have both written and verbal goals.
5) Take time to enjoy some form of physical activity every day. Your body was made to move and activity has been shown repeatedly to reduce stress and improve one's happiness. Activity can simply be walking your dog or participating in an exercise class.
6) Pain is not a lifestyle and age is not to blame. If you feel you cannot accomplish your physical goals due to pain, I am here to help. Chiropractic care can help you move better and reduce your overall pain. In our office we also focus on corrective exercise and providing tips on how to move better. Our goal is to provide long-term results. In addition, to chiropractic care and rehab we offer nutritional counseling. We sit down and discuss your goals and your current health status. From there we identify what steps are needed to reach your goals. In some cases, blood work may be recommended. We are able to order tests, interpret, and create a comprehensive report explaining the results at our office. We are able to take the guesswork out of why you may not be feeling well and determine causes before they become a major medical problem. We would be happy to discuss this option further if you are interested.
Remember your current crisis is not a lifestyle and will soon pass. It is important in times of high stress to remember and implement the tips above. Make it a goal to keep things simple this year and focus on experiences. Do not forget to do things you enjoy and surround yourself with the people you love versus things.
"Life is 10% what happens to YOU and 90% how you respond to it." – Charles Swindoll