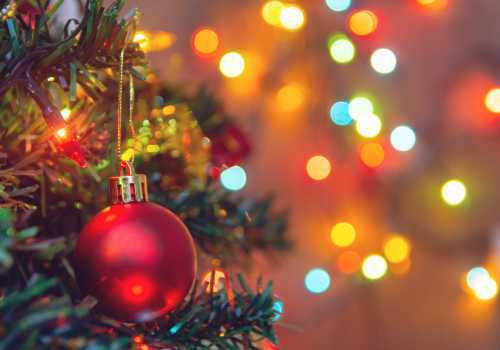 Now that the holiday season is wrapping up are you feeling relieved or are you a little blue now that the parties are over, and the decorations have been put away? For some people, it's tough to get back into the swing of ordinary routines and schedules. High expectations for the holidays, winter weather blues, fatigue, and overindulgence of holiday treats can leave us feeling blue. If you're having trouble adjusting, here are 10 holiday stress management tips.
1. Get Outside and Away from Holiday Stress
Although the weather may be frightful outside, heading outdoors for a 10-minute walk can boost your mood. If it is too icy or windy, you can check out the walking track at the Rustad Recreation Center in West Fargo to get your blood flowing and lift your mood.
2. Reboot your Routine
There is no better time than the holidays to throw off your regular routine. Most people thrive when they stick to a pattern. If you have children, you know that any shift in routine can increase tantrums and alter attitudes in a negative way. Every family needs routine as they help one stay organized and keeps life f
3. Take a Tech Break
According to the Anxiety and Depression Association of America (ADAA), social media can make anxiety symptoms worse. It is normal for people to share photos of family gatherings, the sunny vacation, gifts that were received, and holiday parties. A constant barrage of happy and polished selfies can leave you feeling lonely, inadequate, anxious, and depressed. Consider taking a holiday break from social media and being physically and mentally present with the people around you.
4. Celebrate YOU. Self-care is a MUST.
Many people focus on giving gifts and doing thoughtful gestures for others during the holidays. Though giving gifts is a nice gesture it can put your own needs and wishes on the back burner. This can leave you feeling resentful and angry. Don't forget to take care of yourself physically and mentally. Put yourself in a time out, buy yourself a massage, take time to read your book, or participate in a yoga class. You have accomplished a lot this year and it is important to celebrate all you have done!
5. Try Something New
There is no better time than now to pick up a new hobby, take a class you have been wanting to try, or start a project that you have been wanting to do. With the winter days dragging on, fill your time doing something you love or learning something new.
6. Reevaluate Your Diet
Why do we only make new diet resolutions in January? Better nutrition is a vital aspect of one's health all year-round. By making small, simple changes year-round we can see long-term results. Something simple like cutting back on sugar can reduce your likelihood of catching a cold, help you shed extra weight, and make you feel happier.
7. Schedule a Massage for YOU!
Give yourself the gift of massage. A great way to reduce stress levels, ease tight muscles, and rejuvenate your energy is to have a massage. Kathy Johnson, LMT at Therapeutic Massage Solutions is located within Venture Chiropractic. She would be happy to help you move better, sleep better, feel better, and reduce your stress and anxiety.
8. Say No and Ask for Help
Have you ever returned from a vacation with a pile of extra work on your desk and an email inbox overflowing with requests? If so, this may be a significant source of stress and can impact your mental health. If you are feeling overwhelmed ask for help or an extension on a project. It is also important to not overcommit. By saying no, you will be able to complete the tasks you have committed to and will avoid spreading yourself too thin.
9. Don't Forget the Water
In the hustle and bustle of the holidays we may forget to stay hydrated. Between running errands, shopping, and decorating we may find we are drinking less water. Overindulgence in alcohol, sugary drinks, and salty appetizers may leave us even more dehydrated. Remember to drink ½ your body weight in ounces.
10. Declutter
Why wait until spring to clean and declutter? The winter months can be a great time to escape the cold and tackle clutter. Deep cleaning can rid your home of germs that cannot escape. Surround yourself with people and things that make you happy and get rid of the rest.
Whatever your reasons for feeling blue after the holidays, the good news is there are plenty of ways to ease your stress and start looking forward to spring. Don't tackle everything at once. Pick a task or goal and begin there. Establish a regular routine and repeat. Small changes will yield long-term results. Next week's blog will focus on tips to how-to set successful resolutions and make them stick!
–Melanie Dockter, DC, CACCP